Uganda has fully reopened education institutions after nearly 22 months of closure to combat the spread of COVID-19. This morning, millions of Ugandan learners are reporting back to school for physical learning activities.
Uganda has had the longest school closure due to COVID-19 with a section of learners having stayed at home since March 2020 when the government announced the first lockdown to contain the spread of COVID-19. On December 15, 2021, the Education Minister announced the school re-opening giving parents, learners and schools, a three weeks window to prepare.
Anent Mulindwa, a parent of five, says that she can now breathe a sigh of relief that children are returning to school after a long period. "My youngest daughter has not been to school for two years. She was in P.2 when schools closed. I was wondering whether she will ever go back to school," the thrilled parent noted.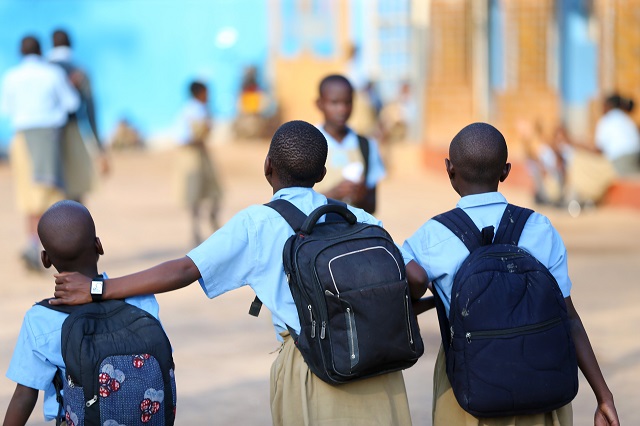 Whereas all learners across the country are resuming the term this morning, boarding schools in the Kampala metropolitan area will reopen in a staggered manner. According to the plan laid out by the ministry, students studying in Mpigi and Wakiso districts will report on Monday and Wednesday with A-level and lower primary students expected on the first day followed by O-level and upper primary learners.
Learners studying from schools in Kampala and Mukono will report on Tuesday and Thursday of the same week with A-level and lower primary reporting first. On reopening, schools are not expected to begin off with teaching classroom content as the first week is reserved for the orientation of learners by taking them through COVID-19 guidelines and preparing them mentally.
Roselyn Ngorok, a physiologist, says that how the school handles learners in this first week will be critical to the learning process for the rest of the term. "Preparing learners mentally will be key as schools reopen. Teachers need to prepare these learners. They have been out of school for a long period. They have been used to different things and are now going back to a completely different environment," Ngorok told Radio 4 Uganda in a recent interview at Bat valley primary school.
As the first phase of school reopening takes shape, many learners will be shocked by the current state of their schools. Many schools are shells of what they were in March 2020 before President Yoweri Museveni announced the lockdown to forestall the spread of COVID-19. While the closure of schools might have helped, the abrupt departure of learners, teachers, and support staff left a lot of school property at the mercy of the weather.
In Many schools visited by Radio 4 Uganda on Sunday and Monday morning, cleaning of classrooms was still taking place. While the government promised to release Shillings 62 billion from the capitation grant to help prepare for the reopening of the schools, many of them had either not received or just received the money.
Emmanuel Mwunvaneza, the Kisoro District Education Officer, says that however much they are prepared to start due to the teachers' positive response on vaccination and training that was held on Saturday, most heads of government schools are yet to prepare work plans on how to use the funds to implement the standard operating procedures.
The situation is no different in Mbarara. Venasio Musinguzi Winner, the chairperson Association of Secondary School Headteachers Uganda Mbarara Chapter says that the much as they are opening the schools they are facing a challenge because they have not received the capitation grant. He says that schools have accumulated maintenance debts from bills for electricity and water to paying workers.
In some districts like Otuke, big schools with over 500 pupils will re-open without enough furniture. One such school is Adem Primary School in Okwang sub-county where the headteacher, says that they only have 57 desks but expect 600 pupils.
Zaddock Odong, the headteacher of Adem Primary says even as they welcome learners back, he is not sure how they will be able to implement social distancing since they even lack classrooms. He says many schools such as his will not be able to adhere to all the school re-opening guidelines.
Edward Kasagara, the Mbarara Chief Administrative Officer, says that the district has already received capitation grant money but was delayed by the new technology and approval of warrants.
The Mukono Municipal Mayor, Elisa Mukasa Nkoyoyo, says that due to the late release of funds, they are mobilizing resources to ensure the pupils resume studies as they wait for the government to pass a supplementary budget of Shillings 140 million to renovate the school.
---
Reader's opinions
---